The following is an excerpt from Practice Perspectives: Vault's Guide to Legal Practice Areas.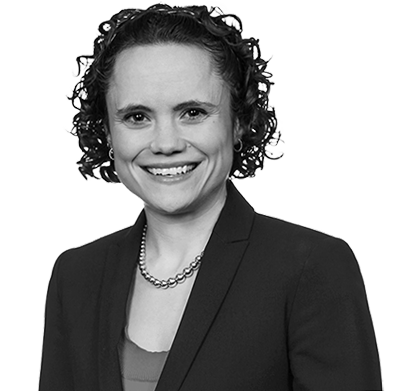 Elaine Ewing, Partner—Antitrust
Elaine Ewing is known for her impressive work across all areas of antitrust law, including merger reviews by the U.S. FTC, the U.S. DOJ, and foreign authorities; civil antitrust litigation; criminal and civil antitrust investigations; and antitrust counseling. She has worked on numerous high-profile matters, including representing Google in its $2.1 billion acquisition of Fitbit, Dow Chemical in its $130 billion merger of equals with DuPont, International Flavors and Fragrances in its $45.4 billion merger with DuPont Nutrition & Biosciences, Thales in its €4.8 billion acquisition of Gemalto, and Whirlpool Corporation in the sale of its Embraco refrigeration compressors business.
She has served on the Steering Committee of Global Competition Review's Women in Antitrust Conference in 2018 and 2019 and has spoken at conferences or panels arranged by the American Bar Association, Concurrences, The Capital Forum, and CBI. Elaine was named to Global Competition Review's "40 under 40" list; a "Rising Star" in Legal Media Group's Expert Guides; and a "Top Litigator Under 40" by Benchmark Litigation, which also included her on its "Under 40 Hot List" in 2018 and 2019.
Ms. Ewing received a J.D. degree from Harvard Law School and her undergraduate degree from Amherst College.
Describe your practice area and what it entails.
There are two major components to my practice. First, merger clearances—securing antitrust approvals of mergers and acquisitions. Second, antitrust litigation—primarily defending companies who are the subject of government investigations and/or private civil litigation.
This transaction/litigation split is typical at Cleary Gottlieb. We don't think of "antitrust lawyers" and "antitrust litigators" separately. Instead, all of our antitrust lawyers are litigators. This helps us be more effective lawyers—when we are working to secure a merger clearance, we have the perspective of a litigator and can better think about how we might defend the deal if it is challenged by antitrust regulators. And as litigators, we often represent companies we know very well from years of working on their transactions.
What types of clients do you represent?
One of the great things about antitrust is the wide variety of products and industries that I get to learn about. My clients range from technology companies (Google) to consumer products companies (Coca-Cola, Whirlpool) to chemical companies (Dow Chemical) to health care companies and beyond. As an antitrust lawyer, I learn their businesses inside and out. Whether it's defending a client's business practices in court or negotiating with regulators in connection with a transaction, I have to understand the companies' products and business models and how they fit in with the law.
What types of cases/deals do you work on?
On the transactional side, antitrust lawyers work on obtaining merger clearances—basically, convincing the antitrust authorities in the U.S. and other countries that a proposed transaction won't lead to higher prices or otherwise harm competition.
In litigation, our job is usually explaining to a court why a company's business practices (pricing, contracts, product design, etc.) don't violate the antitrust laws. (Sometimes, we act for plaintiffs, and get to argue that another company's practices do violate the antitrust laws, which is an interesting change of pace.)
How did you choose this practice area?
I went into law school thinking I wanted to be a litigator; I was only vaguely aware of antitrust. As I talked with lawyers during the law firm interview process and learned more about different practice areas, antitrust stood out. I've always been a curious person, and the idea of learning about so many different industries appealed to me quite a bit. As a summer associate at Cleary Gottlieb, I got to try out antitrust law, among other areas, and confirmed that it was indeed what I wanted to pursue. Fifteen years later, it's still fresh and interesting.
What is a typical day like and/or what are some common tasks you perform?
There really is no typical day or week. My favorite part of my job, which I spend a fair amount of time doing, is interviewing businesspeople and learning about what they do all day. I also spend a lot of time talking with executives, experts, in-house lawyers, economists, colleagues, and co-counsel to help develop our strategy in each of our cases. And, of course, I spend time working on the briefs and presentations that will persuade courts and authorities of our position and then making the corresponding arguments and presentations.
What training, classes, experience, or skills development would you recommend to someone who wishes to enter your practice area?
Besides taking antitrust classes, getting as much of a background in economics as you can is a great start to being an antitrust lawyer. We aren't economists who are processing data ourselves, but we work closely with economic experts and need to be able to translate their work into a form that can be understood by regulators and judges. But don't despair if you don't have an economics background—there is plenty of opportunity to learn economics as a junior associate.
Otherwise, I would encourage anyone interested in practicing at a firm, whether in antitrust or another practice area, to take the classes that cover the topics most relevant to our clients, including Corporations and Securities Regulation. If you're going to represent major public companies, it's very helpful to understand at a basic level how they are structured and governed. And when dealing with companies that are under investigation, it's helpful to have at least some familiarity with their disclosure obligations.
What is the most challenging aspect of practicing in this area?
Antitrust transactional work moves quickly. That isn't necessarily negative—unlike in many practice areas, antitrust matters typically go from start to finish in a year or less, meaning that you get a lot of varied experience in a short period of time. However, the pace often means you need to get up to speed and become an educated advocate very quickly. That is often challenging, especially when transactions involve particularly complicated products that require time and energy to understand before you even start thinking about the legal arguments.
What do you like best about your practice area?
For me, the best thing about antitrust law is the tight nexus to business and industry. I was and remain drawn to the intersection between law and business—and not only representing companies, but learning the details of their day-to-day business and the markets in which they operate. A lot of law students have the idea that they want to be "corporate" lawyers. While certainly some of these students are genuinely interested in drafting corporate documents and negotiating deals, my experience has been that many are really excited about being involved in business from the legal side. For those students, antitrust law is the perfect fit. Practicing antitrust law gives you tremendous exposure to all aspects of a company's business, from working with corporate development groups and investment bankers on a company's M&A strategy to working with the day-to-day businesspeople who are involved in designing, marketing, and selling products.
What misconceptions exist about your practice area?
Because of its economic focus, antitrust law can be intimidating to some law students. But there is really no need for a masters' degree (or even an undergraduate degree) in economics. Curiosity and a willingness to learn are critical, but with those, any interested law student can become a successful antitrust lawyer.
What is unique about your practice area at your firm?
Our antitrust practice stands out because of its global depth. We have antitrust lawyers in most of our offices globally and work closely with our colleagues to secure global clearances and defend against investigations in many jurisdictions. I'm on the phone with colleagues in Europe almost daily as we work together to best represent our clients. Our global team is especially strong because so many of our antitrust lawyers have spent time practicing in other offices, whether as summer associates (I spent half of my summer associate tenure in Brussels), associates, or partners.
In the time I've been at Cleary Gottlieb, the practice has only become more international. Dozens of countries now have merger control regimes, and major transactions can involve 10, 15, or more filings. I've been involved with filings in more than two dozen jurisdictions on six continents. I won't list them all, but they include China, India, Brazil, Japan, South Africa, and Australia. The same is true on the litigation side, where more and more countries are developing antitrust enforcement and private civil litigation regimes. My civil litigation practice has included, in addition to the U.S., cases in Canada, the U.K., Germany, Brazil, and Israel.