At a Glance
Uppers
"Market leader in compensation."
"Brilliant colleagues who treat each other with the utmost professionalism and respect."
"Working at a prestigious firm such as Davis Polk will open up many doors down the road."
Downers
"High workload."
"Promotion is a black box."
"Our health insurance plan."
About Davis Polk & Wardwell LLP
Davis Polk & Wardwell LLP boasts one of the nation's best and most comprehensive corporate departments, with impressive teams in capital markets, M&A, finance, restructuring, and tax. Its lauded litigation practice includes top-notch antitrust, civil litigation, intellectual property, and white collar criminal defense practices.
Historical Connections
Davis Polk was founded by Francis Bangs in 1849, making it one of the oldest law firms in the United States. Bangs' successor, Francis Stetson, was quick to recognize the growing importance of corporate work. In 1887, banker and industrialist John Pierpont Morgan selected Stetson for his chief counsel—the firm helped Morgan restructure the Pennsylvania Railroad and create General Electric. Morgan's businesses, in their modern-day incarnations—JPMorgan Chase and Morgan Stanley—have remained firm clients. Over the course of many decades, the firm has built relationships with a host of other financial institutions and corporations across the country and around the world.
Transactional Titans & Litigation Lions
One firm reigns as king atop both Vault's Banking & Financial Services ranking and Securities/Capital Markets ranking: Davis Polk. The firm clinched the No. 1 spot in both areas in 2015 and has held tight since. DPW's Capital Markets group has significant experience handling IPOs and high-yield and investment grade debt offerings, while its Financial Institutions group advises on a range of matters from M&A to compliance to Dodd-Frank and financial services regulatory reform.
The firm's strong transactional practices are complemented by its top-notch litigation work. Davis Polk is a regular in the top 10 of Vault's Securities Litigation ranking and is among the top tier of Chambers', The Legal 500's, and Benchmark Litigation's rankings—and for good reason. The firm regularly handles some of the most complex securities litigation around. Davis Polk recently won multiple victories—including the outright dismissal of one action—in first-of-its-kind cryptocurrency securities litigation against the Tezos Foundation, and ultimately successfully resolved the litigation. The firm is also widely recognized for its White Collar Criminal Defense group, which handles everything from anti-money laundering and FCPA matters to FCA/qui tam and insider trading, plus much more.
International Flair
Davis Polk has extensive experience in cross-border work, with ample international reach. The firm has had roots in Europe for more than 50 years, opening its Paris office in 1962, followed by its London office in 1973 and its Madrid office in 2001. A few decades later, the firm set its sights on Asia, opening its Tokyo office in 1987. A Hong Kong office followed in 1993, and in 2007, the firm opened an office in Beijing. The firm's seventh international office, in São Paulo, opened in 2011. DPW's lawyers practice U.S., U.K., Hong Kong, and French law.
News & Awards
NOTABLE CASES
Davis Polk lawyers initiated the construction of the first large hydroelectric power plant in America, at Niagara Falls, and established the standard for the American electric system. (1888)
Davis Polk advised the underwriters on Apple's IPO. (1980)
Davis Polk advised long-time client J.P. Morgan & Co. on its $38.6 billion merger with Chase Manhattan Bank to form JPMorgan Chase. (2000)
The firm advised Aetna in connection with an agreement with the U.S. Department of Justice that allowed it to proceed with its proposed $77 billion acquisition by CVS Health. 
AWARDS & ACCOLADES
Gold Standard Firm, 2020—Women in Law Empowerment Forum
Capital Markets Team of the Year, 2020—IFLR1000United States Awards
Restructuring Firm of the Year, 2020—The Deal
Best Place to Work for LGBTQ Equality, 2021—HRC Foundation
GIR 30, 2020—Global Investigations Review
Why Work Here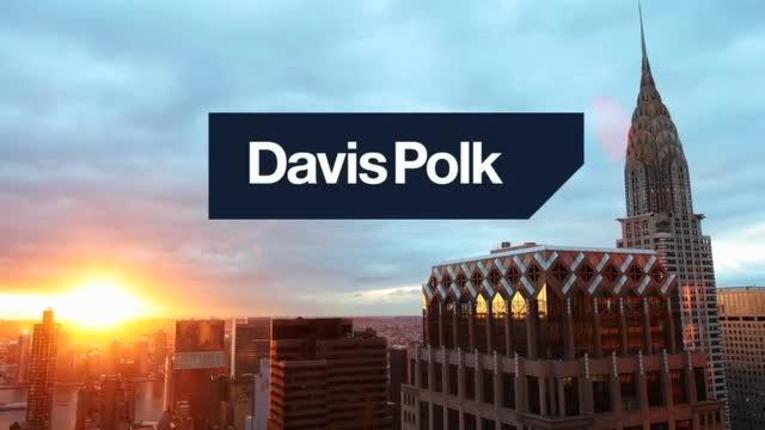 Davis Polk & Wardwell LLP
450 Lexington Avenue
New York, NY 10017
Phone: (212) 450-4000

Firm Stats
Managing Partner: Neil Barr
Hiring Partners: Dana M. Seshens & Pritesh P. Shah
Total No. Attorneys (2021):
1K - 1.5K
No. of Partners Named 2021:
9

Base Salary
All offices
1st year: $205,000
2nd year: $215,000
3rd year: $240,000
4th year: $275,000
5th year: $305,000
6th year: $330,000
7th year: $350,000
8th year: $365,000
Summer Associate: $3,900/week

Employment Contact
Cristóbal V. Modesto
Chief Legal Recruiting Officer
(212) 450-4144
newlawyer@davispolk.com

No. of International Offices: 7
Major Office Locations
New York, NY (HQ)
Northern California
Washington, DC
Beijing
Hong Kong
London
Madrid
Paris
São Paulo
Tokyo

Major Departments
Antitrust & Competition
Capital Markets
Corporate Governance
Derivatives and Structured Products
Environmental
Executive Compensation
Finance
Financial Institutions
FinTech
Restructuring
Intellectual Property & Technology
Investment Management
Litigation
Mergers & Acquisitions
Private Equity
Real Estate
Tax
Trusts & Estates
White Collar Criminal Defense