The following is an excerpt from Practice Perspectives: Vault's Guide to Legal Practice Areas.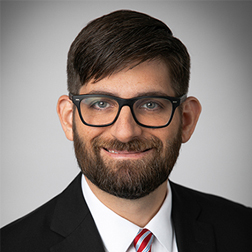 Greg Featherman, Partner—Tax Department
Greg Featherman is a partner in Weil's Tax practice in New York. Mr. Featherman advises clients on cross-border mergers, acquisitions, spinoffs, and other divisive strategies; restructurings; bankruptcy and non-bankruptcy workouts; the use of net operating losses; foreign tax credits and other tax attributes; and consolidated return matters.
Prior to joining Weil, Mr. Featherman was a principal at a global professional services consultancy in its Washington National Tax International M&A group. Prior to that role, Mr. Featherman was an attorney at another major law firm.
Mr. Featherman frequently speaks on related subjects for groups, including the DC Bar, Tax Executives Institute, and the American Bar Association.
Describe your practice area and what it entails.
My practice focuses on the tax aspects of business transactions, including domestic and cross-border public and private M&A, reorganizations, spinoffs, bankruptcy, and other corporate restructurings as well as financing transactions. In addition to my transaction-driven tax work, I also advise clients on their day-to-day tax planning and structuring.
What types of clients do you represent?
I represent a broad range of public and private companies, private equity sponsors and their portfolio companies, and financial institutions.
What types of cases/deals do you work on?
I advise clients on domestic and cross-border mergers, acquisitions, spinoffs, and other dispositions. In addition to more transaction-based work, I advise clients on restructurings (including bankruptcy and non-bankruptcy workouts).
How did you choose this practice area?
I discovered during my third year of law school while taking a basic taxation class that I had an aptitude for tax law. After that, I decided to pursue an LL.M. in taxation, both in order to build up my base of knowledge as well as to demonstrate to potential employers my commitment to pursuing a career in tax.
What is a typical day like and/or what are some common tasks you perform?
One of the things I like best about being a tax lawyer is there is no typical day. Each day presents a new and interesting challenge. Fundamentally, my job is to understand the overall business objectives of my clients and to help them achieve the most tax-efficient results possible in any given context.
Depending on the nature of the transaction I am working on, my day-to-day work may include providing written and/or oral advice to clients on how best to structure their transaction in the most tax-efficient manner possible and reviewing and negotiating the tax provisions of various legal documents (agreements, SEC documents, etc.). I also engage in business development, which may include in-person meetings with clients, and often attend networking events (e.g., bar association events). 
What training, classes, experience, or skills development would you recommend to someone who wishes to enter your practice area?
Tax is fairly unique compared to other areas of law due to the fact that most tax practitioners have, in addition to a law degree, an LL.M. in taxation. In addition, many law schools offer a wide variety of tax courses for those practitioners who are interested in getting a feel for tax law but are not ready for the commitment of an additional degree. 
What is the most challenging aspect of practicing in this area?
The complexity of the tax law.
What misconceptions exist about your practice area?
One of the biggest misconceptions is that all tax lawyers are very busy around April 15th. Another one is that tax lawyers don't do as much business development as other practice areas. Business development is actually an extremely important part of being a tax lawyer at Weil.
What are some typical tasks that a junior lawyer would perform in this practice area?
Junior associates have the opportunity to work on a broad range of projects, leveraging their basic legal skills, such as research and memo drafting. Additionally, junior associates often prepare or review spreadsheets that seek to quantify the tax consequences of a particular transaction.
What are some typical career paths for lawyers in this practice area?
I think tax law offers a broader range of career paths than many other areas of law. In addition to working in a law firm, a tax practitioner could work at an accounting firm, for the IRS or Treasury Department, at an investment bank, or in-house, among other options. Having a background in tax law could also serve as a springboard for a career in finance (e.g., CFO or treasurer of a company).